Leduc Adult Coed League Schedule and standings
Week 7: Sunday, December 16th
No games ond dec 9th due to the festival of trees.
All games at the Leduc Rec Centre
4pm: Crispy kickers/Gone strong vs BlindCo
5pm: Baynes FC vs Tosh
6pm: Smokin chickens vs Impact
7pm: Rusty cleats vs Playmore
8pm: Raging hornets vs Happy chappy
9pm: Shake n bake vs Pruvan
full schedule here
blank game sheets here
Week 8: sat, Jan 5th and Sun, Dec 6th
All games at the Leduc Rec Centre
sat, Jan 5th
9pm: Pruvan construction vs Happy chappy
10pm: Tosh vs Rusty cleats
Sun, Jan 6th
7pm: BlindCo vs Raging hornets
8pm: Impact vs Baynes FC
9pm: Playmore vs Crispy kickers/Gone strong athletic
10pm: Shake n Bake vs Smokin chikens
full schedule here
blank game sheets here
Ken Armstrong (18)
Mike O'Sullivan (17)
Randy Bignell (13)
Team Pruvan construction:
Ethan Wollman (11)
Cameron Turgeon (9)
Nathan Osborne (8)
Paul Drader (5)
Mike Pronk (4)
Tom Laurie (4)
Michael Stadnyk (2)
Devan Green (1)
David Kelm (9)
Matt Stamper (9)
Simon Kelm (6)
Eric Racancoj (3)
Amy Belec (2)
Tyler Morgan (2)
Dakota Deschamps (2)
Team Gone strong athletics/ crispy kickers:
Sarah Gallotti (6)
Andrew Veltri (6)
Dexter Rodts (4)
David Johnstone (4)
Ryan Stevenson (2)
Trevor Hall (1)
Tim Boulton (1)
Paul wright (1)
Trish Tercher (1)
Mark Ritchie (3)
Brydan Huff (1)
Jamie Subchuck (1)
Igor Marchenko (10)
Samuel Kelm (9)
Bryan Garcia (8)
PJ Kelm (9)
wendy Lavalley (3)
Jason Aalders (3)
Adam rahaman (3)
Joshua de Goeij (3)
Melissa matiko (1)
Mike Matiko (1)
Karim Mason (1)
Ken Armstrong (18)
Joanna Stokes (5)
Scott Flynn (4)
Philip Kemball (3)
Casey Allen (2)
Christian Schranz (2)
Tony Bosch (2)
Jamie edgar (1)
Connie Schranz (1)
Hendrik Osterink (1)
Mike O'Sullivan (17)
Randy Bignell (13)
Johnathan whallen (3)
Mathieu Boute (4)
Matt Caunce (3)
Maurice Kelliher (2)
Alyss Douglas (2)
Stephen Parcollet (2)
Jason Dalhman (2)
Shane Cooper (7)
Carl Ruediger (7)
Kevin Onyschuk (5)
Cosam Malenga (4)
Sam Ruediger (4)
Robert Weldon (3)
Nassim Saib (2)
Nathan Gabbert (2)
Kim Zomerman (2)
Anthony Koopmans (2)
Cosam Malenga (1)
Jessica Needhan (1)
Daniel Goz (5)
Andrew Wilson (3)
Chris Villeneuve (2)
Donald Naidu (2)
Chad Coene (4)
MacDonal Seth (4)
Andrea Coene (2)
Andrew Paker (2)
Nathan Netelenbos (2)
Slavik Arabsky (1)
Mic Miller (4)
Delain VanDer Waal (4)
Brett Baynes (3)
Colin Miller (2)
Remi Theberge (2)
Jordan Robertson (2)
Chris Mosley (1)
Derek McDonnell (1)
Timothy Lasker (1)
Pierce Curtin (1)
Jordan Steinhauer (1)
Adam McKenzie (9)
Joseph Meinema (7)
Luke Stevenson (6)
Jessica Round (4)
Jarod McKenzie (3)
Jason Meetsma (3)
Juan Huss (2)
Emily Meetsma (1)
Will Weldmanis (1)
Peter Lauterborn (1)
Christina Howdle (1)
Pruvan Construction: Wins 6, Losses 0, Draws 0, +/- +30, points 18
Shake n Bake: Wins 6, Losses 0, Draws 0, +/- +28, points 18
Smokin chickens: Wins 5, Losses 1, Draws 0, +/- +33, points 15
BlindCo: Wins 4, Losses 2, Draws 0, +/- 20, points 12
Happy chappy: Wins 4, Losses 2, Draws 0, +/- +13, points 12
Raging Hornets: Wins 4, Losses 2, Draws 0, +/- +11, points 12
Tosh: Wins 3, Losses 3, Draws 0, +/- +10, points 9
Baynes FC: Wins 2, Losses 4, Draws 0, +/- -6, points 6
Gone strong/Crispy kickers: Wins 1,  Losses 5, Draw 0, +/- -25, points 3
Playmore: Wins 1, Losses 5, Draws 0, +/- -42, points 3
Impact: Wins 0, Losses 6, Draws 0, +/- –17, points 0
Rusty cleats: Wins 0, Losses 6, Draws 0, +/- -57, points 0
In case of a tie in standings, direct head to head result should be considered first, then goal differential.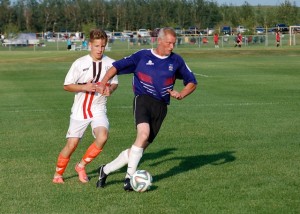 Leduc Adult Soccer (L.A.S.) was created in 2015 to fill the structural gap that exists at the local Level between minor soccer and adult teams.We believe it is critical for the development of soccer in Canada to have adult teams working in partnership with minor soccer clubs. Leduc Adult Soccer offers adult recreational programs (
Leduc Adult Coed League
) and adult competitive programs (
Leduc United team
s). Leduc Adult Soccer offers opportunities for adults of all skills and gender to continue play the sport they love in and around Leduc. For minor soccer programs, contact the
Leduc Soccer Association.
T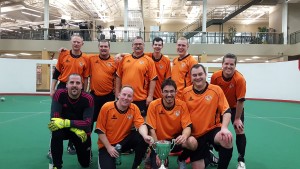 he Leduc Adult Coed League (LACL) is a great place for adults of all skills and levels to play soccer in a structured environment.
Games are played on Sundays at the rec center in Leduc during the winter (6vs6 standard indoor format game) and during the summer at Lede park (8vs8 format, field location here).
For more info about the Leduc Adult Coed league and learn how to join our great league, click
here
.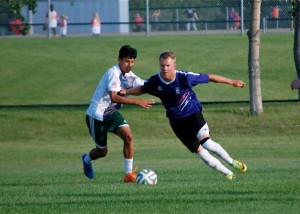 For the players looking for a more competitive environment, Leduc Adult Soccer, created the Leduc United competitive program. Our indoor team is registered in Div 3 with EDSA  (standard 6 vs 6 indoor format, games on Wednesdays throughout Edmonton). Our two outdoor men's team, Leduc United and Leduc United reserve, are affiliated in EDSA. Leduc United will be playing the 2018 outdoor season in EDSA Div 2. Games will be on Tuesdays and practice on Sundays afternoon (once a week). Leduc United reserve will play in Tier 4, with games on Thursdays, practice time will be shared with the Div 2 team. Registrations for the United teams must be done in person (try outs to be announced). To join the Leduc United team (or Leduc United reserve team), contact Mathieu.boute@gmail.com. More info about the United program can be found "
here
".
The Leduc Adult Soccer development plan for the upcoming season is as follows: 2017 outdoor season:
Leduc United registered in EDSA Div 2 outdoor.
Leduc United reserve registered in EDSA Tier 4 outdoor, and affiliated with the Div 2 team (meaning that players from the B team can play up in the Div 2 team).
14 Coed teams registered in the Leduc Adult Coed League (LACL).
Future projects: We are looking to expand the Leduc United teams with a womens team and a Masters mens team both registered in EDSA.   We are currently looking for players, coaches and managers for the competitive men's and future competitive women's and master's teams. If you are interested in a position in our United program, contact LeducAdultSoccer@gmail.com or Mathieu.boute@gmail.com for more details.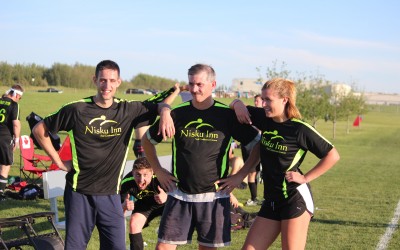 The outdoor season is scheduled to start on May 6th, 2018. Early bird fee in effect till March 31st. we expect to have between 8 and 10 coed teams in the Leduc adult coed league and 2 competitive mens teams in the EDSA league. Check the Coed or United section for more...
read more
Registrations for the 2018-19 season of the Leduc Adult Coed League (LACL)
Registrations for the indoor season of the Leduc Adult Coed League are open.  Registrations are done on a first come first served basis. Early bird pricing in effect till September 30th (Cost is $150, becomes $170 on September 1st) Players joining late will be placed on a waiting list in the order they arrive.
Registrations to a Leduc United Team
Registrations for the 2018-19 indoor season of the Leduc United (Div 2 outdoor/Div3 indoor) and Leduc United reserve EDSA teams are open.  Contact Mathieu Boute for tryout dates. Pre-season practices and exhibition games will be scheduled shortly. Games are on Wednesdays. Registrations are made in person. Contact : mathieu.boute@gmail.com if you would like more info
A well integrated and coordinated program that has offered me the chance to play soccer with a great bunch of guys. The coed league really brings the local community together.
Matt Caunce
I played this year in the coed league and the competitive team and I am loving it.  I am very happy with the direction the Leduc Adult soccer club is going.
Scott Flynn
Leduc finally has a quality adult program for soccer. It is now possible for young players to play soccer locally with LSA and then transition into adulthood with Leduc Adult Soccer. I am proud to be a part of the Leduc Soccer Association and the Leduc Adult Soccer family.
Craig Cooper
Contact Leduc Adult Soccer