Leduc Adult Coed League Schedule and standings
Week 9: Sunday, July 14th
Games at Lede field #17 (map)
2:30pm : FC southsiders vs Tosh
3:50pm : Pruvan construction vs BlindCo
5:10pm : Baynes vs Happy chappy
6:30pm : Beaumont rapid FC vs Smokin chickens
Games at Lede field #18 (map)
2:30pm : Crispy kickers vs Beercelona
3:50pm : Newcity electric vs Gone strong athletics
5:10pm : Raging hornets vs Extra tinder
6:30pm : Top cheese vs Strikers
full schedule here
blank game sheets here
Week 10: Sunday, July 21st
Games at Lede field #17 (map)
2:30pm : Raging hornets vs Beercelona
3:50pm : Crispy kickers vs Gone strong athletics
5:10pm : Tosh vs Extra tinder
6:30pm : Top cheese vs New city electric
Games at Lede field #18 (map)
2:30pm : FC southsiders vs BlindCo
3:50pm : Pruvan construction vs Happy chappy
5:10pm : Baynes FC vs Smokin chickens
6:30pm : Beaumont rapid FC vs Strikers
full schedule here
blank game sheets here
Adam MacKenzie,  (14)
Sam Kelm (12)
Kevin Onyschuk (11)
Team Pruvan construction:
Paul Drader (6)
Nic Gross (5)
Reuben Van Beek (4)
Ethan Wollman (4)
Nathan Osborne (3)
Michael Stadnyk (2)
Cameron Turgeon (2)
Brandie Corrigan (1)
Erin Nobles (1)
Kiel Christenson (1)
Sam Kelm (12)
Igor Marchenko (7)
Josh De Goeij (5)
Jason Alders (5)
Adam Rahaman (3)
Renee Kwantes-Ogwu (2)
Bryan Garcia (1)
Wendy Lavalley (1)
Christian Schranz (7)
Stuart Gibson (5)
Scott Flynn (3)
Jim Kha (2)
Tony Bosch (2)
Joanna Stokes (2)
Joanne Miechowicz (1)
Sean Keogh (1)
Dustin Rodh (1)
Joanne Gibson (1)
Jonny Whalley (1)
Sarah McIntyre (1)
Zach Elder (7)
Jordan Brack (3)
Taytem Dillabough (2)
Sean Dillabough (1)
David Kelm (9)
Matt Stamper (5)
Simon Kelm (5)
Amy Belec (1)
Elias Buwalda (1)
eric Racancoj (1)
Carter Pyrch (4)
Kevin Tokaryk (3)
Mathieu Boute (2)
Erika Williams (1)
Philip Drader (1)
Adam Mackenzie (14)
Ken Armstrong (9)
Philip Kemball (5)
Stephen Parcollet (1)
Jessica Round (1)
Kevin Onyschuk (11)
Carl Ruediger (6)
Cosam Malenga (3)
Anthony Koopmans (3)
Sam Ruediger (2)
Heather Mahood (2)
Robert Weldon (1)
Jessica Needham (1)
Shane Cooper (1)
Blair Mahood (1)
Delain Vanderwal (9)
Mic Miller (5)
Bretton Baynes (2)
Ryan Lohndorf (1)
Kyle Buchanan (1)
Justin Jorstad (1)
Jared Jorstad (1)
Ian Krause (1)
Isaac Meetsma (4)
Luke Stevenson (4)
Joshua Meetsma (3)
Jason Meetsma (3)
Levi Meetsma (2)
Bryan Meetsma (1)
Jason Ritchie (1)
Juan Huss (1)
Rahaman Julie (1)
Joshua Clark (1)
Daniel Goz (4)
Dustin Nelson (3)
Will Politeski (2)
Jorge Sepulveda (1)
David Johnstone (5)
Omar Hernandez (2)
Patrick Stewart (2)
Dexter Rodts (2)
MacDonald Seth (9)
Chad Coene (5)
Nathan Netelenbos (4)
Andrea Coene (1)
Paul Wright (2)
Amanda Tooth (1)
Smokin chickens: GP 7, W7, L0, D 0, GF 39, GA 12, +/- +27, Pts 21
Pruvan construction: GP 7, W 6, L1, D 0, GF 32, GA 10, +/- +22, Pts 18
Tosh: GP 7, W 5, L 1, D 1, GF 32, GA 8, +/- +24, Pts 16
Raging hornets: GP 7, W5, L 1, D 1, GF 24, GA 10, +/- +14, Pts 16
Beercelona: GP 7, W 5, L 2, D 0, GF 31, GA 15 +/- +16, Pts 15
Beaumont rapids: GP 7, W 4, L 1, D 2, GF 22, GA 13, +/- +9, Pts 14
Baynes FC: GP 7, W 4, L 2, D 1, GF 22, GA 11, +/- +11, Pts 13
BlindCo: GP 7, W 4, L 3, D 0, GF 30, GA 15, +/- +15, Pts 12
Happy chappy: GP 7, W 3, L 2, D 2, GF 22, GA 17, +/- +5, Pts 11
Strikers: GP 7, W 3, L 4, D 0, GF 16, GA 18, +/- -2, Pts 9
Newcity electric: GP 7, W 2, L 4, D 1, GF 12, GA 21, +/- -9, Pts 7
Top cheese: GP 7, W 1, L 5, D 1, GF 11, GA 37, +/- -26, Pts 4
Gone strong athletics: GP 7, W 1, L 6, D 0, GF 11, GA 34, +/- -23, Pts 3
Crispy kickers: GP 7, W 1, L 6, D 0, GF 6, GA 33, +/- -27, Pts 3
FC Southsiders: GP 7, W 0, L 6, D 1, GF 3, GA 26, +/- -23, Pts 1
Extra Tinder: GP 7, W 0, L 7, D 0, GF 0, GA 21, +/- -18, Pts 0
Team name/ Games played/ Goals for/ Goals against/ Goal difference/ Points
In case of a tie in standings, direct head to head result should be considered first, then goal differential.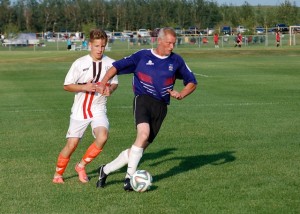 Leduc Adult Soccer (L.A.S.) was created in 2015 to fill the structural gap that exists at the local Level between minor soccer and adult teams.We believe it is critical for the development of soccer in Canada to have adult teams working in partnership with minor soccer clubs. Leduc Adult Soccer offers adult recreational programs (
Leduc Adult Coed League
) and adult competitive programs (
Leduc United team
s). Leduc Adult Soccer offers opportunities for adults of all skills and gender to continue play the sport they love in and around Leduc. For minor soccer programs, contact the
Leduc Soccer Association.
T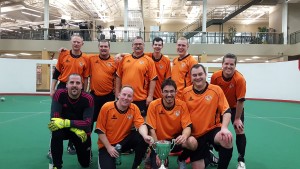 he Leduc Adult Coed League (LACL) is a great place for adults of all skills and levels to play soccer in a structured environment.
Games are played on Sundays at the rec center in Leduc during the winter (6vs6 standard indoor format game) and during the summer at Lede park (8vs8 format, field location here).
For more info about the Leduc Adult Coed league and learn how to join our great league, click
here
.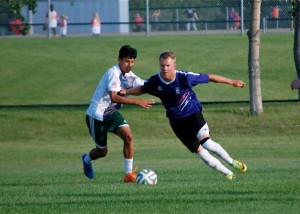 For the players looking for a more competitive environment, Leduc Adult Soccer, created the Leduc United competitive program. Our indoor team is registered in Div 3 with EDSA  (standard 6 vs 6 indoor format, games on Wednesdays throughout Edmonton). Our two outdoor men's team, Leduc United and Leduc re-United, are affiliated in EDSA. Leduc United will be playing the 2019 outdoor season in EDSA Div 2. Games will be on Tuesdays and practice on Sundays afternoon (once a week). Leduc re-United will play in Tier 4, with games on Thursdays, practice time will be shared with the Div 2 team. Registrations for the United teams must be done in person (try outs to be announced). To join the Leduc United team (or Leduc United reserve team), contact Mathieu.boute@gmail.com. More info about the United program can be found "here".
The Leduc Adult Soccer development plan for the upcoming season is as follows: 2019 outdoor season:
Leduc United registered in EDSA Div 2 outdoor.
Leduc re-United registered in EDSA Tier 4 outdoor, and affiliated with the Div 2 team (meaning that players from the tier4 team can play up in the Div 2 team).
14+ Coed teams registered in the Leduc Adult Coed League (LACL).
Future projects: We are looking to expand the Leduc United teams with a womens team and a Masters mens team both registered in EDSA.   We are currently looking for players, coaches and managers for the competitive men's and future competitive women's and master's teams. If you are interested in a position in our United program, contact LeducAdultSoccer@gmail.com or Mathieu.boute@gmail.com for more details.
Registrations for the 2019 outdoor season of the Leduc Adult Coed League (LACL)
Registrations for the outdoor season of the Leduc Adult Coed League are open.  Registrations are done on a first come first served basis. Early bird pricing in effect till March 31st (Cost is $100, becomes $130 on April 1st) Players joining late will be placed on a waiting list in the order they arrive.
Registrations to a competitive Mens Leduc United Team
Registrations for the 2019 outdoor season of the Leduc United (Div 2 outdoor) and Leduc re-United EDSA teams are open.  Contact Mathieu Boute for tryout dates. Pre-season practices and exhibition games will be scheduled shortly. Games are on Tuesdays (Div 2 team) and Thursdays (Tier 4 team). Registrations are made in person. Contact : mathieu.boute@gmail.com if you would like more info
A well integrated and coordinated program that has offered me the chance to play soccer with a great bunch of guys. The coed league really brings the local community together.
Matt Caunce
I played this year in the coed league and the competitive team and I am loving it.  I am very happy with the direction the Leduc Adult soccer club is going.
Scott Flynn
Leduc finally has a quality adult program for soccer. It is now possible for young players to play soccer locally with LSA and then transition into adulthood with Leduc Adult Soccer. I am proud to be a part of the Leduc Soccer Association and the Leduc Adult Soccer family.
Craig Cooper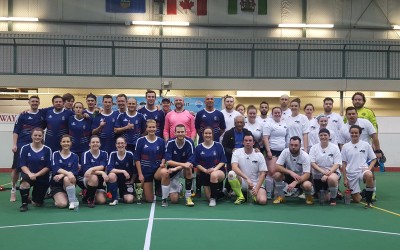 Our Leduc United coed team was sent to represent our soccer club at the Sherwood Park tournament from Feb 17th-20th, 2017. The Leduc United coed team finished the tournament with an undefeated record and claimed gold against Team "Slice". Final score was 8-2 for Leduc...
read more
Contact Leduc Adult Soccer